Gallery
Gallery: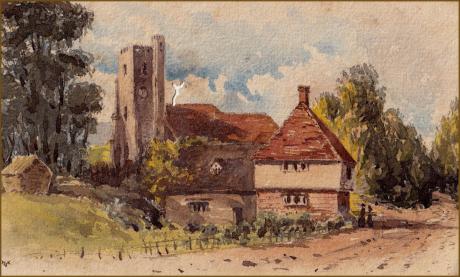 E.T. L., 19th Century
St Peter and St Paul's church and adjacent House, Seal, Kent 1877
Signed/Inscribed:
inscribed signed and dated with monogram " Seal Kent / E.T.L."
pencil and watercolour
10 x 18 cm.
Notes
Seal is a village and civil parish in the Sevenoaks district of Kent, England. The parish is located in the valley between the North Downs and the Greensand ridge, and to the north-east of the town of Sevenoaks in West Kent.
In early documents the name of the village is often given as 'Sele', 'Sale', 'Zela' or 'La Sela'. Until recently it was thought to come from the French word 'salle' meaning a hall but there is no evidence to support this. Etymologists suggest that the name of the village could have come from the Anglo-Saxon word 'sole' or 'sol' meaning a 'muddy slough, wallowing place' or a 'muddy pond that overflows'. Seal still has a pond at the fork at the bottom of Park Lane which tends to overflow at the present day. Another possibility is Anglo-Saxon sēale = "group of sallow trees".
Seal's church, the oldest parts of which date from the 13th Century, is dedicated to St Peter and St Paul and is a grade I listed building. The ecclesiastical parish only became separate from Kemsing in 1874, although there may well have been a Saxon church on the site of the present building. Visitors to the church, which is normally open during the day, can pick up a free guide leaflet pointing out features of interest. There are more details on the church website, and a page for family historians with some records of burials and baptisms at the church (not complete) and information about where to find others.
Today, the ecclesiastical parish boundary meanders north of the village along the Guzzlebrook stream and extends south through the village, bounded on the eastern side by Watery Lane, Seal Chart, and Ash Platt Road to the west. It follows the course of Park Lane, Chance Wood, Grove Road, through Godden Green, bounded at the south by the junction of Bitchet Green Road at Fawke Common.Seal was recorded in the Domesday Book in 1086.
The Church. C13 core (S aisle arcade and S side blocked lancet), much rebuilt in the C15 and early C16. The tower was under construction in c.1520-9 (Pevsner); 1855 N aisle, organ chamber in eastward lengthening of aisle in 1879. Sandstone rubble masonry, the tower masonry galletted, tiled roofs. Nave, chancel, W tower, N and S aisles, NE organ chamber, SE chapel, the E wall flush with the chancel E wall, SE vestry roofed at right angles to the chapel, SW porch. 3-stage embattled Kentish tower with diagonal buttresses with set-offs and octagonal SE stair turret rising above the tower roof. W doorway and W window with renewed (C20) masonry. S aisle has renewed (C20) square-headed Perpendicular style windows with cusped heads and one blocked lancet. Perpendicular porch with stoup, diagonal buttresses and doorway in square-headed frame with carved spandrels. 3-light E window with shallow segmental arch and cusped lights; E window of SE chapel uncusped. 1855 Decorated style buttressed N aisle with 3-light windows. Interior has 3-bay S aisle with round and octagonal piers with deep mouldings. Early Cl6 tower arch with engaged shafts, filled with glazed screen. Nave has medieval crown-post roof on moulded ties on arched braces with carved posts on moulded stone corbels. The crown-posts have moulded bases and capitals and 4-way bracing. Chancel arch marked by timber wall posts and pierced traceried spandrels to the tie beam braces and a carved boss on the soffit. Common rafter chancel roof with moulded wallplate is probably late Perpendicular. Medieval Perpendicular S aisle roof with moulded tie beams with arched braces and open spandrels. Medieval Perpendicular porch roof with curved braces and a brattished wallplate. 1855 3-bay N arcade. Remains of rood stair in SW chancel pier. Plain octagonal late Perpendicular stone font with C17 ogival openwork font cover. C.1630 timber drum pulpit with upper panels with blind perspective arches, lower panels and cornice with strapwork decoration. Late Cl9/early C20 benches and choir-stalls with poppyheads. Timber traceried screens to organ chamber and SE chapel early C20 (SE chapel screen dated 1932)(The chancel screen of 1931 by C R Ashbee, noted in Pevsner, was removed in 1990). E windows of the chancel and chancel chapel signed F W Oliphant, 1856 and 1858. Chandelier dated 1725. Numerous monuments including c.late C14 brass (of very high quality) and late Cl6 brasses and many wall monuments, including a cartouche dated 1680 to John Chichester 'of the highest sculptural quality'(Pevsner) and five Grecian tablets to the Pratt family of 1832 by Chantrey. Unusual and original c.1908 bronze sleeping child on a pedestal to Elizabeth Mills. A church with a C13 core but extensive Perpendicular rebuilding including a good example of a Kent tower; medieval roofs to the nave, S aisle porch and probably chancel. Fittings include a Perpendicular font with Cl7 font cover, good Cl7 pulpit and numerous monuments, some of the best quality. Sources Pevsner, West Kent and the Weald, 1980 edn., 508-509 Information from the incumbent.