Gallery
Gallery: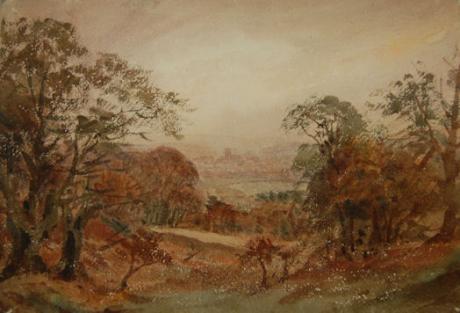 Rev John Louis Petit, 1801 - 1868
Richmond Park and Richmond Church in the distance
Richmond Park and Richmond Church in the distance
Signed/Inscribed:
inscribed on the reverse
pencil and watercolour
27.94 x 38.10 cm. (11 x 15 in.)
Notes
Richmond Park is a 2,360 acre (9.55 km2; 3.69 sq mi) park within London. Almost three times as large as New York City's Central Park, it is the largest of the Royal Parks in London and Britain's second largest urban walled park after Sutton Park, Birmingham. It is close to Richmond, Ham, Kingston upon Thames, Wimbledon, Roehampton and East Sheen. The park is famous for its red and fallow deer, which number over six hundred. The Isabella Plantation is an important and attractive woodland garden.There is a protected view of St Paul's Cathedral from King Henry VIII's Mound, and a view of central London's London Eye, Natwest Tower and 'The Gherkin', appearing to be close to each other.The Park contains notable buildings, ten of which, plus the whole wall of the park, are listed buildings.Pembroke Lodge and some associated houses stand in their own garden within the park. Pembroke Lodge was originally a home of 1st Earl Russell, and is now a restaurant.The Royal Ballet School has been based for many years at White Lodge where younger ballet students continue to be trained. It was originally a hunting lodge for George I.There are four other houses, apart from the gate-houses: Thatched House Lodge, Holly Lodge (formerly Bog Lodge), White Ash Lodge and Oak Lodge. Holly Lodge contains a visitors' centre (bookings only), the Park's administrative headquarters and a base for the Metropolitan Police's Royal Parks Operational Command Unit. King Henry VIII's Mound is the highest point within the park and is located within the public gardens of Pembroke Lodge. It is named after Henry VIII of England. There is speculation that the mound has an older history, and may have originally been a barrow. From the Mound there is a protected view of St Paul's Cathedral in the City of London over 10 miles (16 km) to the east which was established in 1710. (A telescope is installed on the mound, for a better viewing experience.) This vista is protected by a 'dome and a half' width of sky on either side. The Mayor of London (Ken Livingstone) sought to overturn this protection in 2005, and reduce it to 'half a dome'. No final decision has yet been made public. To the west is a panorama of the Thames Valley. During King Edward's (1272–1307) reign the area was known as the Manor of Sheen. The name was changed to Richmond during Henry VII's reign. In 1625 Charles I brought his court to Richmond Palace to escape the plague in London and turned it into a park for red and fallow deer. His decision, in 1637, to enclose the land was not popular with the local residents, but he did allow pedestrians the right of way. To this day the walls remain, although they have been partially rebuilt and reinforced, and Richmond remains the smallest National Park in the UK. In 1847 Pembroke Lodge became the home of the then Prime Minister, Lord John Russell and was later the childhood home of his grandson, Bertrand Russell. It is now a popular restaurant with glorious views across the Thames Valley. All houses backing on to the park pay a feudal fee known euphemistically as "Richmond Park Freebord" ranging from about £2 to £200 per annum.
Artist biography
John Louis Petit was born at Ashton-under-Lyne, Lancashire, son of John Hayes Petit. He was educated at Eton, and contributed to the "Etonian". He was elected to a scholarship at Trinity College Cambridge in 1822, graduated BA in 1823 and MA in 1826, and on 21st June 1850 he was admitted "ad eundem" at Oxford. He took holy orders in 1824, but undertook no parochial work. Petit showed a taste for sketching in early years. His favourite subject was old churches, and a great part of his life was spent in visiting and sketching them. In 1839 he made his first extensive tour of the continent. The results appeared in his "Remarks on Church Architectire" (1841, 2 vols which had illustratuions. It was followed in 1846 by "Remarks on Church Architectural Character" Royal folio format.In the same year Petit published a lecture which he had delivered on 24th Feb 1846 to the Oxford Society for promoting the study of Gothic Architecture, under the title "Remarks on the Principles of Gothic Architecture as applied to ordinary Parish Churches". It was succeeded by "Architectire of Tewksbury Abbey Church". Royal svo 1846. " Architectural notes in the neighbourhood of Cheltenham"and "Remarks on Wimborne Minster", 1847. "Remarks on Southwell Minster". With numerous good illustrations. 1848. "Architectural Notices relating to Churches in Gloucestershire and Susse". 1849. "Architectural Notices of the Curious Church of Gillingham.Norfolk". And an "Account of Sherborne Minster". 1850. In 1852 Petit published an account of Brinkburn Priory". In 1854 appeared Petit's principal work. "Architectural Studies in France", imperial SVO. It was beautifully illustrated with fine woodcuts and facsimiles of anastic drawings by the author and his companion, Professor Delamotte. It showed much learningand observation, and threw light upon the formation of Gothic in France, and on the differences between English and French Gothic. A new edition , revised by Edward Bell, FSA, with introduction, notes and index, appeared in 1890. The text remained unaltered but the illustrations were reduced in size, and a few added from Petit's unused woodcuts. In 1864-65 he travelled in the East and executed some striking drawings. He died in Lichfield on 2 Dec 1868, from a cold caught while sketching and was buried in St Micheal's Churchyard. Petit was the founder of the British Archealogical Institute at Cambridge in 1844. He was also FSA, an honoury member of the Institute of British Architects, and a governor of Christ's hospital.