Gallery
Gallery: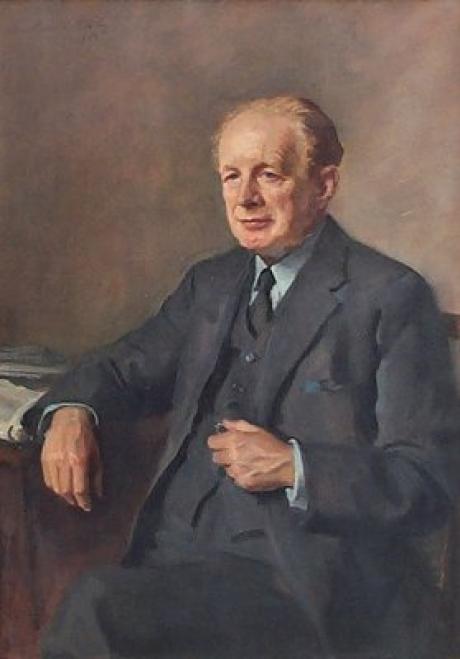 Sir Oswald Hornby Joseph Birley, RP, ROI, NPS, 1880-1952
Portrait of Sir Robert Geoffrey Ellis 1st Bt 1874-1956
Sir Robert Geoffrey Ellis 1st Bt
Signed/Inscribed:
signed and dated "Oswald Birley/1950"
Oil on Canvas
104 x 74 cm (41 x 29in.)
Provenance
Sun Life Assurance Society
Notes
Sir Robert Geoffrey Ellis, 1st Baronet (4 September 1874, Shipley, West Yorkshire– 28 July 1956) was a Conservative Party politician in the United Kingdom. Ellis was educated at Peterhouse, Cambridge.He was elected as Member of Parliament (MP) for Wakefield at the 1922 general election, but lost the seat at the 1923 general election. He was re-elected in 1924, but defeated again in 1929. Ellis did not contest Wakefield again, but at the 1931 general election he was returned as MP for Winchester. At the 1935 general election, he did not stand again in Winchester, but was elected instead for the Conservative safe seat of Sheffield Ecclesall. He retired from the House of Commons at the 1945 general election. He was made a baronet, of Threshfield in the West Riding of the County of York, in 1932.

Artist biography
Birley, Sir Oswald Hornby Joseph (1880–1952), painter, was born on 31 March 1880 in Auckland, New Zealand, the son of Hugh Francis Birley, of St Asaph, north Wales, and his wife, Elizabeth, daughter of George McCorquodale, of Newton-le-Willows, Lancashire, while his parents were on a world tour. He was their only child and his father was determined to ensure the development of his son's artistic talent which had shown itself at an early age. He was educated at Harrow School and then, in 1897, was taken by his father to Dresden, Munich, and Florence. In 1898 he went up to Trinity College, Cambridge, and then to Paris in 1901 where he studied under Marcel Baschet at the Académie Julian and exhibited regularly at the Salon until 1904. In 1905 he visited Madrid, staying there for almost a year and executing a series of copies from Velázquez which presented him with an ideal and helped him to formulate his style.

From 1906 Birley was working in London, rapidly establishing a reputation as a portrait painter and exhibiting his portraits at the Royal Academy from 1904 and almost every year thereafter until 1945. In 1907 he was one of the co-founders of the Modern Society of Portrait Painters, exhibiting alongside his friends and principal rivals, Glyn Philpot and Gerald Kelly, both of whose portraits he painted about this time (both National Portrait Gallery, London). From an artistic viewpoint, much of his best work, including interiors such as Room at James Pryde's (1914; sold Christies, Charleston Manor, Sussex, 3 October 1980, lot 25), was executed during this period.

In 1914 Birley enlisted in the Royal Fusiliers with whom he served until 1915 when he was transferred to the intelligence corps, flying as an observer with the Royal Flying Corps. He became a captain in 1916 and received the MC in 1917. In 1921 he married Rhoda Vava Mary Lecky Pike (1900–1981), daughter of Robert Lecky Pike, of Kilnock, co. Carlow (they had one daughter and one son), and the following year moved to 62 Wellington Road, St John's Wood, London, which had been built for him by Clough Williams-Ellis.

In the 1920s Birley's painting began to change rapidly, the artist using coarser brushwork and his approach becoming increasingly literal, but this had no discernible effect on his burgeoning career as a society portraitist. He received his first royal commission, a portrait of George V for the board of the National Museum of Wales in 1928; and thereafter he was to paint virtually every member of the royal family including Queen Mary and George VI (1945), and Queen Elizabeth, Elizabeth II, and Prince Philip (1949). He painted Stanley Baldwin twice (1928, Goldsmiths' Company; 1939, formerly Carlton Club, London), Neville Chamberlain (1933, City of Birmingham Museum and Art Gallery), a bluff portrait of Ernest Rutherford (1932) for the Royal Society, and, as well, a large Conversation Piece (1937) for The Times. A series of painting travels included, besides Europe, visits to the United States (1922 and subsequently); Mexico in 1926, where he painted President Plutarco Calles; India (1927 and subsequent visits), which produced some of his more inspired 'off-duty' work; and Siam in 1929, where he painted the king and queen.

In 1943, while serving with the Sussex Home Guard, Birley lost the sight of an eye in an accident when a weapon exploded, but he adapted himself with great patience to his partial loss of vision. He painted most of the statesmen and military leaders of the war, particularly a series for the Royal Naval College, Greenwich, of George VI and his admirals, and four portraits of Winston Churchill with whom he sometimes painted in the south of France.

Birley, who was a member of the Royal Society of Portrait Painters from 1912 and latterly its vice-president, was knighted in 1949. In 1951 an exhibition of his work, ranging over half a century, was held at the Royal Institute Galleries in London. A year later, after a final visit to the United States and a long period of increasingly poor health, he died at his London home on 6 May 1952. He was buried in the country churchyard at Westdean, near his Sussex home of Charleston Manor. The house and garden subsequently became well known for an annual festival of music and the arts organized by his widow, herself an amateur painter, until shortly before her death in 1981. His daughter was the designer and fashion writer Maxime de la Falaise (1922–2009) and his son the club owner Marcus (Mark) Birley (1930–2007).

Captain Birley, as he continued to call himself, was indeed described by The Times (7 May 1952) as looking more like a soldier than a painter. Exceptionally handsome, he had immense charm which must in no small degree have accounted for the success of his portrait practice. Although a number of obituaries expressed surprise that he had never been elected a member of the Royal Academy, it was presumably for the same reasons that none of his work was ever acquired by the Tate Gallery or any of the major municipal art collections. In addition to the collections already mentioned, however, his portraits are also found in the Scottish National Portrait Gallery, Edinburgh (Lord Reith, 1933) and the Imperial War Museum, London.   Robin Gibson  DNB