Gallery
Gallery: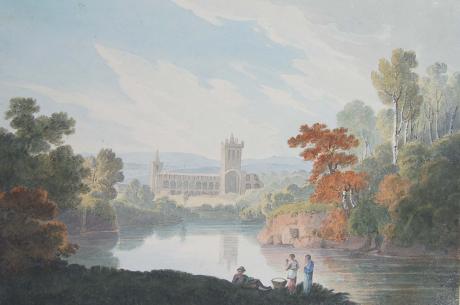 English School 19th, Century
Jedburgh Abbey, Roxburghshire, Scotland
Jedburgh Abbey, Roxburghshire, Scotland
pencil and watercolour
22.86 x 15.24 cm. (9 x 6 in. )
Notes
Jedburgh Abbey is one of the four great abbeys built in Scotland's border country during the Middle Ages. It was established as a priory of Augustinian canons around 1138. The brethren possibly came here from St Quentin Abbey, near Beauvais, France. The priory was raised to abbey status around 1154. Augustinians were priests who lived a secluded and contemplative life, but who went forth from their cloister to minister to the people. Jedburgh eventually possessed about 20 parish churches.
Monastic life was mostly routine, but the abbey's location close to the border with England inevitably brought it into the conflict between the two countries that bedevilled the later Middle Ages. During the Wars of Independence in the 14th century, the canons had to evacuate the premises. Further attacks in the 1400s were compounded by major raids in the 16th century. These and the Protestant Reformation of 1560 led to Jedburgh's demise as a monastic institution. The abbey was founded by David I. The Augustinians were noted for their contribution to royal governance, and their houses were generally located close to royal power centres. Holyrood Abbey sits beside Edinburgh Castle, Cambuskenneth Abbey beside Stirling Castle, Scone Abbey beside the hallowed place where Scottish kings were enthroned, and St Andrews Priory beside the headquarters of the Scottish Church.
Jedburgh Abbey served the royal castle in Jedburgh. In 1285, Alexander III and his new queen, Yolande de Dreux, were married in Jedburgh's splendid abbey church. Legend tells of a ghostly figure appearing before the congregation and foretelling the king's death. Alexander died the following year, after falling from his horse. Given Jedburgh's close proximity to England, David I saw his new abbey as demonstrating his power and authority over the Borders – a 'debatable land'. Despite the ravages of war and weather, the abbey remains as impressive today, almost 900 years later. Although the abbey cloister is now mostly stone foundations, the great abbey church of St Mary the Virgin stands almost entire. The eastern end has Romanesque architecture of the highest quality. Its solid cylindrical pillars stand in contrast to the more delicate Gothic nave, with its graceful sweep of arcades and magnificent west front.
Jedburgh had a long association with Christianity, and a minster had probably stood on the site since the 9th century. During clearance work in the early 20th century, part of an 8th-century Anglian stone shrine was found, and excavations in 1984 uncovered a remarkable collection of artefacts, including the beautiful 'Jedburgh Comb', made of ivory about 1100.