Gallery
Gallery: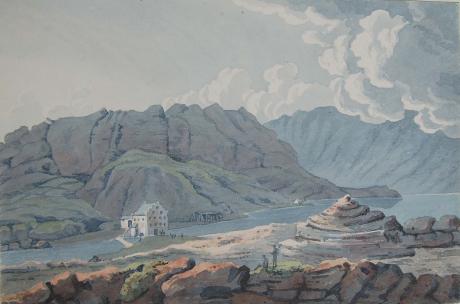 English School 19th, Century
The Grimsel Hospiz, Grimsel Pass, Switzerland
The Grimsel Hospiz, Grimsel Pass, Switzerland
pencil and watercolour
22.86 x 15.24 cm. (9 x 6 in. )
Notes
Grimsel Pass (German: Grimselpass) (el. 2165 m.) is a Swiss high mountain pass between the valley of the Rhone River in the canton of Valais and the Haslital (upper valley of the Aar river) in the canton of Bern.It is located near the source of the Rhone at the Rhone Glacier. Also in the area is the Grimsel Test Site. The Grimsel Pass marks the border between Valais and Canton Bern. There are three hotels on the top, and it's an extraordinarily dramatic place to spend the night, with the bare, snow-patched rocks rising all around, the summit Totensee ("Dead Lake") icy all summer, and stunning sunset views down over the Grimselsee just below. The Grimselblick (027/973 11 77, fax 973 14 22; a–b) is the best on offer, a cosy place once the daytime tour buses have departed, with one particularly enticing en-suite double room, complete with four-poster bed, that's worth asking for. On the other side of the lake is the simpler Alpenrösli (033/973 12 91, fax 973 12 90; a). Three buses a day (July–Sept) run from Oberwald to Meiringen via the Grimselpass.The Grimsel Pass in Switzerland, usually open from June to October, links the Hasli Valley in Bernese Oberland with the Goms Valley in the Valais. On the Bernese side it leads up through a wild and rugged landscape characterized by grey-green granite and reservoirs with mighty dams, used for hydroelectricity, to the pass head at 2165 metres altitude. It then snakes down on the Valais side to Gletsch in Obergoms. At one time the narrow and dangerous pass was used by traders and pack animals to transport Swiss cheese to Piedmont in northern Italy. In turn, the same route was used to bring, wine, rice, maize and leather into Switzerland. Today's well-developed road is part of the popular Grimsel, Furka and Susten three-passes tour, much loved by motorists, motorcyclists and even bikers with enough puff and stamina. One attraction en route on the Bernese side is the Gelmerbahn (funicular) pictured below. Once used to transport power station employees, it is the steepest funicular in the world, with a gradient of 106%. The Handeckfalls hanging bridge, also pictured below, is another heart-stopping attraction. Definitely not for those of a nervous disposition!