Gallery
Gallery: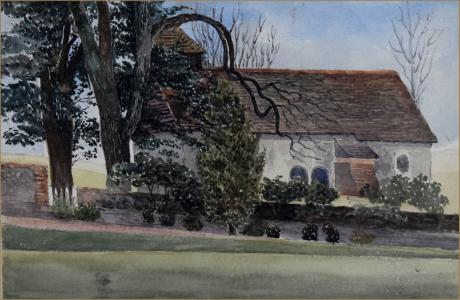 M. L. P, 19th Century
Church of St James the Less, Litchfield, Hampshire, 1867
Signed/Inscribed:
inscribed and dated "  Litchfield Church Hampshire 1867"
pencil and watercolour
15 x 22.50 cm.
Notes
Norman, Transitional, C17, and restored 1874. Single-cell nave and chancel, with a north aisle, south porch and bell turret of the restoration date. The arcade has 3 pointed arches on rectangular piers, with chamfers and plinth; the arches of the (former) south aisle are visible in the infill walling (showing a round column with a scalloped cap). The chancel has a high (Norman) and low window on each side, the nave
and aisle windows being modern lancets (grouped in the north aisle). The nave is separated from the chancel by a wooden screen (dated 1655) with slender arcading between the main frames, designed to be fixed to medieval stone bracket on each side. old and badly worn font. Externally, there is a plain tile roof, a western turret with a small broad spire. The walling is flint with stone dressings. A plaque on the
porch gable is dated 1875.
LITCHFIELD, a parish in Kingsclere district, Hants; near the Roman way from Silchester, 3½ miles N of Whitchurch r. station. Post town, Whitchurch, under Micheldever Station. Acres, 1,806. Real property, £1,646. Pop., 102. Houses, 20. The property belongs to W. Kingsmill, Esq. The living is a rectory in the diocese of Winchester. Value, £347. * Patron, W. Kingsmill, Esq. The church is Norman, and has a tower.