Gallery
Gallery: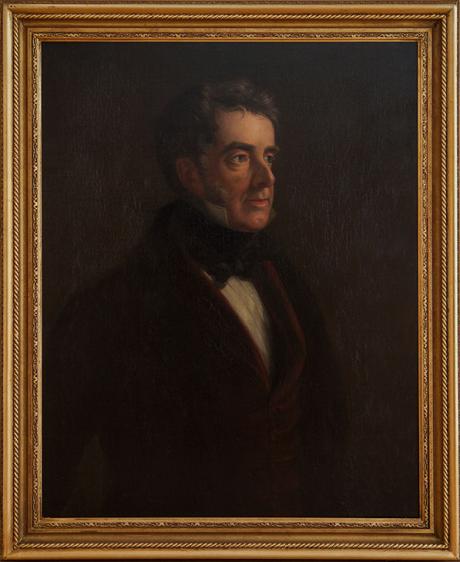 George Hayter, 1792 - 1871
Portrait of William Lamb, 2nd Viscount Melbourne, PC, FRS, 1779-1848
Portrait of William Lamb, 2nd Viscount Melbourne
Signed/Inscribed:
inscribed on the reverse "Lord Melbourne"
oil on canvas
86.36 x 66.04 cm. (34 x 26 in.0
Notes
Born in London to an aristocratic Whig family and educated at Eton and Trinity College, Cambridge, he fell in with a group of Romantic Radicals that included Percy Bysshe Shelley and Lord Byron. In 1805 he succeeded his elder brother as heir to his father's title and he married Lady Caroline Ponsonby. The next year he was elected to the British House of Commons as the Whig MP for Leominster. For the election in 1806 he was moved to the seat of Haddington burghs and for the 1807 election successfully stood for Portarlington (a seat he held until 1812).
He first came to general notice for reasons he would rather have avoided: his wife had a public affair with Lord Byron — she coined the famous characterisation of him as "mad, bad, and dangerous to know". The resulting scandal was the talk of Britain in 1812. Eventually the two reconciled and though they separated in 1825, her death in 1828 affected him considerably. In 1816 Lamb was returned for Peterborough by Whig grandee Lord Fitzwilliam. He told Lord Holland that he was committed to the Whig principles of the Glorious Revolution but not to "a heap of modern additions, interpolations, facts and fictions". He therefore spoke against parliamentary reform and voted for the suspending of habeas corpus in 1817 when sedition was rife. Lamb's hallmark was finding the middle ground. Though a Whig, he accepted the post of Irish Secretary (1827) in the moderate Tory governments of George Canning and Lord Goderich. Upon the death of his father in 1828 and his becoming Viscount Melbourne, he moved to the House of Lords.
When the Whigs came to power under Lord Grey in November 1830 he became Home Secretary in the new government. During the disturbances of 1830–32 Melbourne "acted both vigorously and sensitively, and it was for this function that his reforming brethren thanked him heartily". In the aftermath of the Swing Riots of 1830–31 he countered the Tory magistrates' alarmism by refusing to resort to military force and instead he advocated magistrates' usual powers be fully enforced along with special constables and financial rewards for the arrest of rioters and rabble-rousers. He appointed a special commission to try approximately one thousand of those arrested and ensured that justice was strictly adhered to: one third were acquitted; and most of the one-fifth sentenced to death were instead transported. The disturbances over reform in 1831–32 were countered with the enforcement of the usual laws and again Melbourne refused to pass emergency legislation against sedition.
After Lord Grey resigned as Prime Minister in July 1834, the King was forced to appoint another Whig to replace him, as the Tories were not strong enough to support a government. Melbourne was the man most likely to be both acceptable to the King and hold the Whig party together. Melbourne hesitated after receiving from Grey the letter from the King requesting him to visit him to discuss the formation of a government. Melbourne thought he would not enjoy the extra work that accompanied the office of Premier but he did not want to let his friends and party down. According to Charles Greville, Melbourne said to his secretary, Tom Young: "I think it's a damned bore. I am in many minds as to what to do". Young replied: "Why, damn it all, such a position was never held by any Greek or Roman: and if it only lasts three months, it will be worth while to have been Prime Minister of England". "By God, that's true," Melbourne said, "I'll go!" Compromise was the key to many of Melbourne's actions. He was opposed in theory to the radical governmental reforms proposed by the Whigs, but reluctantly believed that they were necessary to forestall the threat of revolution. While he was less radical than many, when Lord Grey resigned (July 1834), Melbourne was widely seen as the most acceptable replacement among the Whig leaders, and became Prime Minister. King William IV's opposition to the Whigs' reforming ways led him to dismiss Melbourne in November. He then gave the Tories under Sir Robert Peel an opportunity to form a government. Peel's failure to win a House of Commons majority in the resulting general election (January 1835) made it impossible for him to govern, and the Whigs returned to power under Melbourne in April 1835. This was the last time a British monarch attempted to appoint a government against parliamentary majority. The next year, Melbourne was once again involved in a sex scandal. This time he was the victim of attempted blackmail from the husband of a close friend, society beauty and author Caroline Norton. The husband demanded £1400, and when he was turned down he accused Melbourne of having an affair with his wife. In the early 19th century even one sexual scandal (like the one two decades earlier involving Lord Byron) would be enough to finish off the career of most men, so it is a measure of the respect contemporaries had for his integrity that Melbourne's government did not fall. After Mr. Norton was unable to produce any evidence of an affair, the scandal died away. Nonetheless, as Boyd Hilton records, "it is irrefutable that Melbourne's personal life was problematic. Spanking sessions with aristocratic ladies were harmless, not so the whippings administered to orphan girls taken into his household as objects of charity."
Melbourne was Prime Minister when Queen Victoria came to the throne (June 1837). Barely eighteen, she was only just breaking free from the domineering influence of her mother, the Duchess of Kent, and her mother's advisor, John Conroy. Over the next four years Melbourne trained her in the art of politics and the two became friends: Victoria was quoted as saying she considered him like a father (her own had died when she was only eight months old), and Melbourne's daughter had died at a young age. Melbourne was given a private apartment at Windsor Castle, and unfounded rumours circulated for a time that Victoria would marry Melbourne, forty years her senior.
In May 1839, Melbourne's resignation led to the Bedchamber Crisis. Prospective prime minister Robert Peel requested that Victoria dismiss some of the wives and daughters of Whig MPs who made up her personal entourage, arguing that the monarch should avoid any hint of favouritism to a party out of power. As the Queen refused to comply (a course supported by the Whigs) Peel refused to form a new government and Melbourne was eventually persuaded to stay on as Prime Minister. On 25 February 1841, he was admitted a Fellow of the Royal Society.
Melbourne left a considerable list of reforming legislation – not as long as that of Lord Grey, but worthy nonetheless. Among his administration's acts were a reduction in the number of capital offences, reforms of local government, and the reform of the Poor laws. This restricted the terms on which the poor were allowed relief and established compulsory admission to workhouses for the impoverished. Even after Melbourne resigned permanently in August 1841, Victoria continued writing to him but eventually the correspondence ceased as it was seen as inappropriate. Melbourne's role faded away as Victoria came to rely on her new husband Prince Albert of Saxe-Coburg and Gotha as well as on herself. On his death his titles passed to his brother Frederick. The city of Melbourne, Australia, was named in his honour in March 1837, as he was the Prime Minister at the time. Another lasting memorial is his favourite, and most famous, dictum in politics: "Why not leave it alone?", quoted by those who object to change for change's sake.
Viscount Melborune's wife, Lady Caroline Ponsonby- Lamb was not a typical politician's wife. The daughter of Frederick Ponsonby, 3rd Earl of Bessborough, and the granddaughter of the 1st Earl Spencer, she was born in 1785. Her education was haphazard. When she was ten, her grandmother became alarmed at Caroline's eccentric behaviour. She consulted a doctor, who advised that Caroline should not be strictly disciplined. As a result, she ran wild, and could not write or spell until she was in her teens. Despite her lack of formal education, Lady Caroline was a good linguist, fluent in French, Italian and Greek. She was artistic, loving music, painting watercolours and writing poetry and novels. Impulsive and excitable, she sometimes verged on hysteria, and often flew into terrible rages. Lady Caroline married Lord Melbourne, in 1805. After two miscarriages, she gave birth to their only child, George Augustus Frederick, in 1807. He was epileptic and mentally handicapped and had to be cared for almost constantly. Lady Caroline was devoted to him. In 1812, Caroline read Lord Byron's Childe Harold's Pilgrimage and declared: "If he was as ugly as Aesop, I must know him." On meeting Byron that summer, she famously noted in her diary that he was "mad, bad and dangerous to know". They began an affair which lasted until 1813, but even after it finished Lady Caroline's obsession with the poet continued. She published a novel, Glenarvon , in 1816 containing obvious portraits of herself, her husband, Byron and many others. Embarrassed and disgraced, Melbourne decided to part from his wife, though the formal separation did not occur until 1825. Lady Caroline died in 1828, aged 42, her death hastened by drink and drugs. Lord Melbourne, not yet prime minister, was by her bedside.
Artist biography
Hayter, Sir George (1792–1871), painter and engraver, was born on 17 December 1792 at 27 St James's Street, Westminster, London, the third of ten children of Charles Hayter (1761–1835), the son of an architect and a painter in miniature and crayon, and his wife, Martha (1762–1805), daughter of Thomas Stevenson of Charing Cross, London, and his wife, Mary. His parents married in 1788 at St George's, Hanover Square, London.
Early years
Hayter's father was a respected miniaturist who exhibited regularly at the Royal Academy from 1786 onwards. After the deaths of his two first-born sons (when aged twelve and four), Charles Hayter came to rely on his son George, who remained at home without benefit of formal education. According to Hayter's memoir, as a young lad he had a thirst for knowledge and benefited from his father's skills as a teacher of geometry and perspective for artists; he also had access to standard books on art. He taught himself to play musical instruments such as the violin, flute, and later the guitar. At about thirteen George frequented a shop making wax dolls at the corner of Bolsover Street and Margaret Street, where the family now lived; here he learned wax modelling. Hayter also copied from plaster casts he hired himself. A portrait drawing by his father of George at this age (1806; priv. coll.; Bryant, 'Drawings at Duncombe Park', fig. 2) shows a confident individual older than his years (he later remarked that the death of his mother in 1805 affected him deeply). In copying his father's pencil portraits Hayter developed his skill as a draughtsman, and assisted in the busy miniature practice, but he longed to carry on with his own studies in anatomy in order to progress as an oil painter.

In January 1808 Hayter entered the Royal Academy Schools at the age of fifteen. Both Benjamin West, the president of the Royal Academy, and Martin Archer Shee, the successful portraitist, encouraged him. In 1807 'Dear old Fuseli' (Hayter, 'Account'), then keeper in the academy's schools, saw Hayter's work in miniature, and predicted that 'In all you'll shine, and in this, you'll soar' (Bryant, 'Drawings at Duncombe Park', 241), but he also insisted on the study of anatomy. This early phase of Hayter's life concluded when he and his father fell out over his art studies, and Hayter ran away from home to join the navy as a midshipman at Portsmouth at some time in 1808. With the wars in France in full force, he was not turned away, but after a very brief and apparently happy period at sea, his father arranged his release, agreeing that Hayter would assist him but also be allowed to pursue his own studies in the Royal Academy Schools. There Hayter (and his brother John, who was also training as an artist) befriended Edwin Landseer in particular.
Marriage and miniature painting
Hayter fell in love with a lodger in his father's house, Sarah Milton (1779/80–1844), when he was fifteen or sixteen and she was twenty-eight. When his father discovered the attachment Sarah left, but Hayter sought her out, proposed marriage, and she accepted. With the help of friends they married in secret at St Martin-in-the-Fields, London, on 27 May 1809, and continued to live with their respective families. In the same month Hayter showed his first portraits in miniature at the Royal Academy exhibition and gained instant success. He made working visits to Winchester (where his paternal uncle lived) and Southampton. The marriage had become public knowledge by 1811; in that year Sarah Hayter had a baby daughter who, Hayter later wrote, 'died in my arms when I was 18' (Bryant, 'Drawings at Duncombe Park', 243). Sarah seems to have taken up miniature painting at about this time when the couple resided in Woodstock Street off Bond Street, London. They had two more children in quick succession: a daughter, Georgiana (sometimes spelt Giorgina), born in 1813, and a son, William Henry, born in 1814, who was afflicted with blindness.

In 1812 Hayter won the Royal Academy's silver medal for drawing, and in 1814 he won another for a drawing after the antique. Also in that year he exhibited a miniature of Anne Isabella (Annabella) Milbanke, later Lady Byron (priv. coll.; M. Elwin, Lord Byron's Wife, 1962, frontispiece), which, together with that of Lady Jane Montague (1813; exh. RA, 1814; on the art market, 1972), set the course of his astonishingly successful career as an artist who produced what William Hazlitt called 'resplendent miniatures, perfect mirrors of the highest heaven of beauty' (Bryant, 'Drawings at Duncombe Park', 241). He commanded the top prices in London for miniatures and found himself admitted at a young age to the most exclusive circles in society by virtue of his talent and increasingly refined social graces. But he 'disliked most exceedingly the minute labour' required, vowing to carry on only to fund his studies as an oil painter (Hayter, 'Account'). He painted his first major work in oil, St Bernard, while on a visit to Althorp in 1813.

Hayter's skills as a miniature painter brought him to the attention of Princess Charlotte, daughter of the prince regent and next in line to the throne. In 1815 Hayter was appointed her painter of miniatures and portraits. He interceded for his father, who had published An Introduction to Perspective in 1813, proposing that the princess appoint the elder Hayter her professor of perspective; when the second edition was published in 1815 Charles Hayter was granted this honour. The princess of Wales developed her own circle of artists, which included Hayter and his father, John Martin, and George Dawe. When she married Prince Leopold of Saxe-Coburg-Saalfeld in 1816, Hayter's royal appointment was extended to include the position of portrait painter to Leopold, whose friendship and patronage proved of great value in his future career.
Early full-scale works
The formation of the British Institution in 1805 with its emphasis on history painting provided a further avenue for Hayter's ambitions as an artist. By now producing commissioned oil portraits, he exhibited a large-scale group of the daughters of the earl of Aberdeen at the British Institution in 1814 as a subject painting, The Garland (priv. coll.). In the following year his study of an old man entitled The Prophet Ezra (priv. coll.) earned the institution's first premium of 200 guineas and was purchased by the connoisseur Richard Payne Knight. Sir Thomas Lawrence, then the leading portrait painter of the day, wrote: 'a new Prodigy has started up at the British Institution' (RA, Lawrence Papers, II/98). Joseph Farington recorded in his diary on 7 July 1815 that Hayter:
married when He was only 16, & has children. His wife also paints miniatures, and they have maintained themselves and their family creditably, and are now in a flourishing way. He being patronised by the Dukes of Devonshire & Newcastle & other distinguished persons, & with those noble Dukes He is upon such terms as to be invited to their public parties, and they write to him in the most familiar and friendly manner. (Farington, 

Diary

, 13.4465)
Hayter's most important patron was no doubt the sixth duke of Bedford (for whom his father had already worked), who introduced him to Antonio Canova in 1815 with a commission for his portrait (Gov. Art Coll., British embassy, Paris), a work completed in Rome when Hayter obtained sittings from the celebrated neo-classical sculptor.
Visit to Italy
His brief trip to Paris in 1815 whetted Hayter's appetite for foreign travel. Although his early reputation was secure, his personal life was beginning to disintegrate, despite the birth of another son, Leopold, in 1816 (who died in 1819). By this time he had met Louisa Cauty (1794–1827), who shared his life for the next decade. The strain on his marriage to Sarah from the death of their first baby and the blindness of their son took its toll. When the couple separated the surviving children went to live with their grandfather Charles Hayter, later returning to the care of their father and Louisa Cauty.

In autumn 1816 Hayter left for Italy, probably accompanied by Louisa (she was certainly with him by January 1817) and settled in Rome. They lived openly as man and wife but she could not appear in society; she later called herself Mrs Hayter, despite the fact that Hayter had not obtained a divorce. Having decided to abandon miniature painting, Hayter studied extensively, producing landscapes and academic drawings as well as The Tribute Money (art market, 1999) for the duke of Bedford, which gained him election to the Accademia di San Luca in Rome. Even though only an honorary member, Hayter thereafter ostentatiously signed himself with the initials M.A.S.L. This early academic honour was never matched by membership in the Royal Academy at home.
Circle of patrons
The death of Princess Charlotte in childbirth in November 1817 meant that Hayter lost his most distinguished patron, and by early 1818 he was back in England cultivating a wide circle of potential new patrons. At Fonthill William Beckford dubbed him 'the Phoenix', and considered that 'an abler artist than he doesn't exist', but by 1819 Beckford found him 'quite foolish, conceited and flattering … it would be impossible to be more pleased with oneself than him' (B. Alexander, ed., Life at Fonthill, 1807–1822, 1957, 289). Hayter set up in practice as a portrait painter in London at Wimpole Street; the duke of Bedford commissioned portraits of his children, Samuel Rogers, the artist himself, and a huge portrait of the national hero, the duke of Wellington, resting by his horse Copenhagen (exh. RA, 1820), which remains at Woburn Abbey, Bedfordshire. Hayter's visits to Woburn in these years are evident from his many sketches of Georgiana, duchess of Bedford (for example, Yale U. CBA, and priv. coll.). He sent his more ambitious portraits and large subject paintings of Italian scenes to the British Institution and Royal Academy exhibitions. Louisa gave birth to a son, Angelo Collen (named after the artist Henry Collen, his friend and pupil), in 1819. But living openly with his mistress while his wife was still alive put Hayter beyond the pale of much of the establishment.

In 1820 the 'delicate investigation' of Queen Caroline, wife of George IV, caused a sensation. The introduction of the bill of pains and penalties aimed to 'deprive Her Majesty Caroline Amelia Elizabeth of the Title, Prerogatives, Rights, Privileges and Pretensions of Queen Consort of this Realm, and to dissolve the Marriage between his Majesty and the said Queen' (J. B. Priestley, The Prince of Pleasure and his Regency, 1971 edn, 277). Two hundred and sixty peers assembled in the House of Lords on 17 August and Hayter, with a commission from the young politician George Agar Ellis, planned a painting of the remarkable events, sketching tirelessly on the spot in the House of Lords. The painting (NPG) captured the high drama of the scene, and in order to capitalize on the excitement surrounding the event Hayter staged his own exhibition in Pall Mall in June 1823, with a catalogue that anticipated his later aim to be 'the painter of the history of his own time' (Hayter, Descriptive Catalogue … of the House of Commons, vii). But further efforts to win commissions to paint grand ceremonials, such as the coronation of George IV or the crowning of the king of France, Charles X, in 1825 (which he tried to persuade Robert Peel to commission) came to nothing.

Nevertheless, Hayter grew ever more confident. Still aged only about thirty, he documented himself in a series of self-portraits that reveal him as a dandy. His many self-portraits, in numerous drawings and paintings, indicate a man concerned with his appearance, as luscious curls spill over his head and bejewelled fingers edge into view. He inserted his own self-portrait into The Trial of Queen Caroline (1820–23; NPG), a practice he continued in most of his large contemporary compositions. He constantly sketched; many drawings survive (large collections are held at the British Museum, National Portrait Gallery, and Victoria and Albert Museum), testifying to his prodigious ability to capture a moment. Sheer painterly virtuosity is also evident in his work in the 1820s, as he expressed himself with Romantic vigour on both paper and canvas.

Hayter's personal charm with his many friends, such as the sixth duke of Bedford, meant that he was a favoured guest at country houses, where he depicted members of the family freely. In 1819 Bedford's son Lord John Russell published his Life of William Lord Russell and this stimulated Hayter's painting The Trial of William, Lord Russell, at the Old Bailey in 1638 (priv. coll.). Although poorly hung at the Royal Academy exhibition in 1825, the painting was much praised and engraved with great acclaim. That year Hayter's candidacy for election as an associate member of the Royal Academy failed, owing, it seemed, to his irregular personal life, but no doubt his personality and behaviour also grated on more serious-minded men. He was an astute collector of old-master paintings, many of which he sold on, often acting as an intermediary for his aristocratic friends.
Return to Italy
Hayter's large family provided him with distractions; his many drawings of the mid-1820s show music-making with children and include domestic pets. As he had failed to gain academic recognition in his own country, in September 1826 Hayter settled in Florence, where he had friends, including the artist Seymour Kirkup. Other artists, however, found him overbearing. On hearing of his arrival Thomas Uwins quipped: 'How will England go on without the light of this brilliant constellation' (Uwins, 1.181). Hayter's delight in Florentine life was truncated by a scandal that had reverberations throughout Italy. His mistress, Louisa, who had been living in Paris, went to Florence in June 1827, but in a bid for attention she poisoned herself with arsenic and died at once, on 16 October 1827. It was widely assumed that Hayter drove her to suicide, but in a privately printed letter he explained convincingly that the tragic death of the woman 'I had loved best on earth' was an unfortunate accident (Bryant, 'Drawings at Duncombe Park', 248). Memoirs of Henry Fox and Lady Holland (ibid., 243, 245) speak of Hayter's ostracism by society; he had to leave Florence as a result.

Despite these personal setbacks, professionally Hayter gained distinction by his request to submit a work to the gallery of artists' self-portraits in the Uffizi. This work, completed in 1828 (Uffizi gallery, Florence) radiates self-confidence. Election to the academies of Florence, Parma, and Bologna gave Hayter the impetus to move forward. He found a haven in Paris, where he was welcomed with a range of important portrait commissions by eminent expatriates, such as Lord Stuart de Rothesay and his family, which were exhibited at the Salon in 1830. He adopted a smooth, glossy style based on the work of the French painter Baron Gérard and his works displayed a distinctive cosmopolitan chic for the next two years.
Royal patronage
Hayter's old friend and patron Prince Leopold, now king of the Belgians, bestowed on him a new title, painter of history and portraits to the king. Plans for a major commission, a full-length portrait of the king's niece Princess Victoria, precipitated Hayter's return to London. On the death of Sir Thomas Lawrence in 1830, Hayter saw the way open for his own advancement. In July 1830, aged thirty-seven, he settled in a fashionable location suitable for his planned position in society. Stratford Place, off Oxford Street, was a street associated with Richard Cosway, a celebrated miniature painter who had many affinities with Hayter, not least their devotion to their own image. Yet his fellow artists continued to find him unsympathetic: in July 1832 John Constable wrote that he went to meet Hayter, 'a very prosperous, disagreeable personage—but a great man in his own opinion, he being a person of consequence' (Bryant, 'Drawings at Duncombe Park', 245).

Hayter's portrait of Princess Victoria remains in the Belgian royal collection. He also painted Princess Victoria's mother, the duchess of Kent. These were prestigious commissions and his stock rose accordingly, but he then planned an unusual work in the year of the Reform Bill, a painting entitled Moving the address to the crown on the opening of the first reformed parliament in the House of Commons, Feb. 1833 (NPG). The project occupied ten years of his life, much of the time taken up by ad vivum portrait studies made for each of the 360 sitters, an enterprise only the most energetic artist would dare to attempt. He offered the oil studies to the sitters for 10 guineas each. When it was completed Hayter staged an exhibition of this work and others at the Egyptian Hall, London, writing in the catalogue that the session of 1833 'presented an event exceeding in interest any previous one in the history of this country' as they met in the old House of Commons, within the walls of St Stephen's Chapel (Hayter, Descriptive Catalogue … of the House of Commons, v).

When, aged seventeen, Princess Victoria came to the throne on the death of William IV in 1837, she had her own ideas about art. She immediately affirmed her patronage by retaining David Wilkie as painter in ordinary and appointing Hayter as her painter of portraits and history painter (the warrant was signed on 5 August 1837). She wrote in her diary that he was 'out and out the best Portrait painter in my opinion' (Millar, Victorian Pictures, 1.96). Wilkie received the commission to paint her state portrait, but its failure meant that Hayter was called upon. He had already painted a successful portrait of the young queen, given by her to the City of London (exh. RA, 1838; Guildhall Art Gallery); he then produced a new state portrait showing the queen in the imperial Dalmatic robes worn at the coronation (Royal Collection).

Hayter responded enthusiastically to all aspects of court life and enjoyed his visits to Windsor Castle and Buckingham Palace. He taught the queen and Prince Albert how to etch. Haydon lamented what he termed Hayter's 'suppleness', also recording that he behaved in an excessively courtly fashion: 'when the Queen comes in, Hayter bows to the ground 3 or 4 times, and retires with the greatest humility' (Diary, ed. Pope, 4.625, 451). He noted further that 'Wilkie had been cut out by Hayter with the Queen' (ibid.). Haydon reported that 'Hayter was allowed such privileges, he bullied the Queen' (ibid., 4.625). His confidence rarely waned; his surviving diary records an individual of prodigious energy, who loved riding around London and seeing his friends and family, as much as promoting his own career.

Hayter was well placed to portray the ceremonial scenes he had long wished to paint. Rather than the queen, the printsellers Hodgson and Graves commissioned him to paint the coronation with a view to issuing an engraving of this national occasion. Initially Hayter demurred because the project might hinder work on his painting of the Reform Parliament but, offered a fee of 2000 guineas, he agreed and his position at court gained him access to Westminster Abbey to make preparatory studies. On the day he had a privileged position from which to record the ceremony. His son Angelo assisted, as did an architectural draughtsman called Ashton. This work secured Hayter's position as the queen's painter and in 1840 she commissioned from him a painting of her marriage to Prince Albert of Saxe-Coburg and Gotha (nephew of Leopold), in the Chapel Royal at St James's Palace (1840–42; Royal Collection). Hayter inserted his own self-portrait in the background.

On the death of David Wilkie in June 1841, Hayter spoke almost too hastily to the queen's adviser and prime minister, Lord Melbourne, about taking up the appointment of principal painter in ordinary. The position was given to him even though the art establishment expected Sir Martin Archer Shee, then president of the Royal Academy, to receive the honour. The Art Union stated that the queen had relied more heavily on 'those who have been known to her in youth' such as Hayter, and concluded that the Coronation had been 'so perfectly executed to the satisfaction of her Majesty' (Art Union, 1841, 120). Since 1838 Hayter had been lobbying for a knighthood, and in 1842 this was bestowed on him. His new title encouraged him to believe that further commissions from the queen, beyond mere repetitions of the state portrait, would follow, but such work did not materialize. He paintedThe Christening of the Prince of Wales (Royal Collection) on speculation without a commission. After her marriage Prince Albert began to direct the queen's tastes in art. He did not warm to Hayter, and preferred the German painter F. X. Winterhalter, who had also gone to the British court with a recommendation from King Leopold.

In 1843 Hayter completed and exhibited his First Reformed Parliament in the House of Commons at the Egyptian Hall, using the opportunity to show a range of his work, but the large painting did not sell and he spent many years trying to find a purchaser for this 'national document' including the National Gallery (Hayter to R. Peel, 1 Dec 1845, BM, Add. MS 40580, fol. 129). It was eventually bought by the government in 1858 and was presented to the new National Portrait Gallery. Having exhibited for the final time at the Royal Academy in 1839, Hayter took on commissions from printsellers and painted much of his later output specifically for engraving. In 1843 he travelled to Berlin to deliver to the German court a copy of the state portrait of Queen Victoria.
Later years
In his early fifties Hayter was edged out of royal circles, and the prevailing taste shifted away from his style, preferring greater realism. He produced some religious paintings in later years, as well as historical subject paintings such as Wellington Visiting Napoleon's Effigy at Madame Tussaud's (1853; burned in 1925) which hung in the Napoleon Room at the famous waxworks almost in the manner of a stage set. He also designed metalwork and produced some sculpture.

In 1844 Hayter's wife, Sarah, died. His spirits were low as he struggled with debts and ill health. He sold his large collection of old-master paintings and other works of art at Christies in May 1845 with the intention of moving to the continent. In July a serious train accident in which Hayter sustained severe leg injuries scotched this plan, but his spirits lifted when on 12 May 1846 he married a widow, (Helena) Cecilia Hyde, née Burke (1791/2–1860). After her death in 1860 he made a late marriage on 23 April 1863 to Martha Carey, née Miller (1818–1867), who died four years later. Hayter ended his years alone, satisfied that three of his children were married and self-sufficient; his two daughters lived in France and his blind son Henry was housed in a convent there. To his regret his son Angelo gave up painting as a profession and joined the civil service, rising to become chief reviewer of wills at Somerset House.

Hayter died on 18 January 1871 at his home, 238 Marylebone Road (later named Hayter House), and was buried in St Marylebone cemetery, East Finchley. Soon after his death Queen Victoria purchased The Christening of the Prince of Wales. Hayter had designed his own headstone at the time of his third wife's death in 1867. It is inscribed 'Painter, Sculptor, Poet, Musician'. The text enumerates his honours:
Knight Bachelor of the United Kingdom; Knight of the Lion and Sun of Persia; Painter of History and Portraits and Principal Painter in Ordinary to HM Queen Victoria; Member of the Academies of Fine Arts of Florence, Bologna, Parma, Venice and St. Luke at Rome &c.
Hayter was a distinctly cosmopolitan artist of fluency and glamour. Royal and aristocratic patronage fuelled his ambition to paint large-scale modern history paintings based on portraiture and royal ceremonies. These historical works, especially those in the National Portrait Gallery, remain important visual documents of eminent individuals present at public events in the 1820s, 1830s, and 1840s.

Barbara Coffey Bryant  DNB