Gallery
Gallery: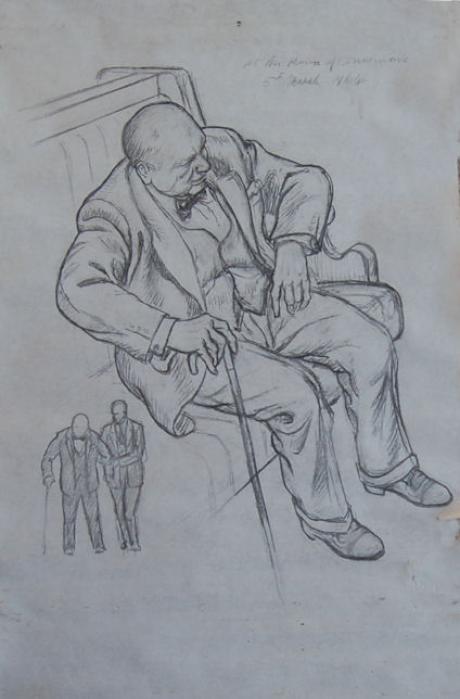 Ernest Waldron West, 1904 - 1994
Portrait Study of the Rt Hon Sir Winston Churchill, KG, Om, CH, TD, DL, FRS, 1874- 1965 seated at the House of Commons
Rt Hon Sir Winston Churchill, KG, Om, CH, TD, DL,
Signed/Inscribed:
inscribed and dated " 5th March 1964"
pencil and charcoal on paper
101.60 x 50.80 cm. (40 x 20 in.)
Notes
Aware that he was slowing down both physically and mentally, Churchill retired as Prime Minister in 1955 and was succeeded by Anthony Eden, who had long been his ambitious protégé (three years earlier, Eden had married Churchill's niece, Anne Clarissa Spencer-Churchill, his second marriage). Upon his resignation, the Queen offered him a dukedom but he declined the offer. Over the coming years Churchill spent less time in Parliament, occasionally voting in parliamentary divisions, but never again speaking in the House. He continued to serve as MP for Woodford until he stood down for the last time at the 1964 General Election. His private verdict on the Suez fiasco was: "I would never have done it without squaring the Americans, and once I'd started I'd never have dared stop". In 1959, he became Father of the House, the MP with the longest continuous service: he had already gained the distinction of being the only MP to be elected under both Queen Victoria and Queen Elizabeth II. On 27 July 1964, Churchill was present in the House of Commons for the last time, and one day later, on 28 July, a deputation headed by the Prime Minister, Sir Alec Douglas-Home, presented Churchill with a Resolution which had been carried nemine contradicente by the House of Commons. The ceremony was held in Churchill's London home at 28 Hyde Park Gate, and was witnessed by Clementine, his children and grandchildren. It read: That this House desire to take this opportunity of marking the forthcoming retirement of the right honourable Gentleman the Member for Woodford by putting on record its unbounded admiration and gratitude for his services to Parliament, to the nation and to the world; remembers, above all, his inspiration of the British people when they stood alone, and his leadership until victory was won; and offers its grateful thanks to the right honourable Gentleman for these outstanding services to this House and to the nation.