Gallery
Gallery: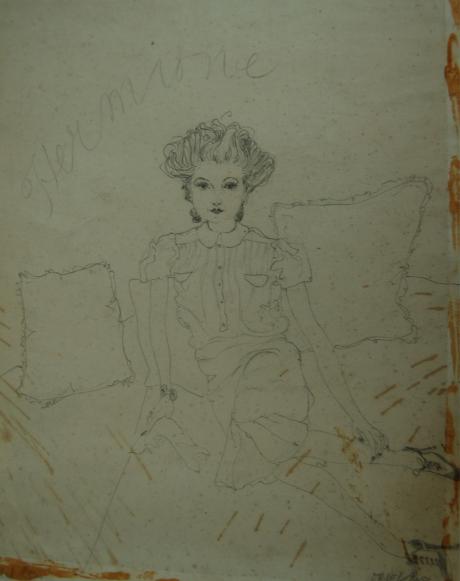 Oriel Ross, 1907-1994
Hermione Youlanda Ruby Clinton Baddeley, (1906–1986)
Hermione Youlanda Ruby Clinton Baddeley
Signed/Inscribed:
" HERMIONE "
pen and black ink
34 x 24 cm 13.1/4 x 9.3/4 in.
Notes
Baddeley, Hermione Youlanda Ruby Clinton (1906–1986), actress, was born on 13 November 1906 in Broseley, Shropshire, the youngest of four daughters (there were no sons) of William Herman Clinton-Baddeley, composer and journalist, and his wife, Louise Rosalie Bourdin. A descendant both of Sir Henry Clinton (1738?–1795), a British general in the American War of Independence, and of Robert Baddeley (1733–1794), the actor and pastry-cook who bequeathed the annual fruit cake to the cast playing at the Theatre Royal, Drury Lane, she combined aspects of both these ancestors in her long and eventful career. Her immediate senior sister, Angela Baddeley (1904–1976), was also a successful actress. Their theatrical education was at the Margaret Morris School of Dancing in Chelsea, London, where the pupils considered themselves vastly superior to the more competitive Italia Conti children.
Hermione Baddeley's first great success was in 1923, under Basil Dean's management, in Charles McEvoy's The Likes of Her, at the St Martin's Theatre, in which she played a badly behaved waif from the slums who had a famous plate-smashing scene. The next year Dean cast her as a murderous Arab urchin in The Forest, by John Galsworthy. Having established a career as a dramatic actress she switched to comedy in The Punch Bowl (1924), a revue at the Duke of York's, where she danced with Sonny Hale and credited her formidable comic technique to lessons learned from the comedian Alfred Lester. She joined The Co-optimists, at the Palace Theatre, in the same year. In On with the Dance (1925), Noël Coward's revue for Charles Cochran, she created (with Alice Delysia) Coward's topically satirical 'poor little rich girl'. This was the first of four productions for Cochran and then, among a number of undistinguished comedies, farces, and musicals, she played Sara in James Bridie's Tobias and the Angel (Westminster, 1932). She had a long run in The Greeks Had a Word for It, which transferred from Robert Newton's Shilling Theatre in Fulham, London, to the Duke of York's in 1934.
With Floodlight by Beverley Nichols (Saville, 1937) Hermione Baddeley began a long period as a queen of revue, having also plunged into an increasing social whirl with her husband, David Tennant, for whom she often performed in cabaret at his club, the Gargoyle. Herbert Farjeon's wit in Nine Sharp (subsequently The Little Revue, 1940) provided the perfect launching pad for her inspired clowning, bravura characterization, and skill at quick costume and make-up changes. Her most popular characters included an old girl at Torquay, a Windmill girl in 'Voilà Les Non-Stop Nudes', and her prototype funny ballerina, Madame Allover. When she was ill, five understudies barely kept the curtain up.
In her autobiography Baddeley suggests that she recruited Hermione Gingold to Rise Above It at the Comedy Theatre (1941). It was a legendary, explosive partnership, with Gingold's daunting control of laughter and Baddeley's penchant for wild improvisation. They were reunited less successfully in Sky High at the Phoenix the next year. Their final joint venture, Noël Coward's Fallen Angels at the Ambassador's in 1949, inspired the fury of the author at the liberties they took. He was mollified when the show became a fashionable success. Meanwhile, as a dramatic actress Hermione Baddeley's two outstanding successes were as Ida in Graham Greene's Brighton Rock (Garrick, 1943), which she repeated in the Boulting brothers' film (1947), and in Grand National Night (Apollo, 1946), by Dorothy and Campbell Christie. Her American début in A Taste of Honey (1961) led to an invitation from Tennessee Williams to create the role of Flora Goforth in The Milk Train doesn't Stop here Anymore at the Spoleto festival in Italy (1962) and on Broadway a year later. A newspaper strike killed the play but Williams greatly admired her performance.
In England, Hermione Baddeley played in many films from 1926 (A Daughter in Revolt)—most notably in Kipps (1941), It always Rains on Sunday (1947), Quartet (1948), Passport to Pimlico (1949), and The Pickwick Papers (1952). She was nominated for an Oscar in 1959 for Room at the Top (1958) and had a Hollywood success as the housekeeper, Ellen, in Mary Poppins (1964). For the last twenty years she lived mainly in Los Angeles and became a familiar face on television in situation comedies, especially Bewitched and Maude.
Always known as Totie, and originally a petite and delicate gamine, Hermione Baddeley grew into a still small but fuller figured beauty, and this lent authority to her later blowsier characterizations. On 16 April 1928 she married David Pax Tennant (1902–1968), founder of the Gargoyle Club in Soho, and son of Edward Priaulx Tennant, first Baron Glenconner and MP for Salisbury; they had a son and a daughter. The marriage was dissolved in 1937, and in 1941 she married Captain J. H. (Dozey) Willis MC, of the 12th lancers, the son of Major-General Edward Henry Willis, of the Royal Artillery. This marriage was also later dissolved. She enjoyed a stormy romance with the actor Laurence Harvey, but they did not marry. She died in Los Angeles at the Cedars Sinai Hospital on 19 August 1986.
Baddeley's daughter, Pauline Laetitia Tennant [married names Pitt-Rivers, Graham, Rumbold], Lady Rumbold (1927–2008), actress and poet, was born on 6 February 1927 at 13 Beaumont Street, in London's West End; her childhood was divided between the Gargoyle Club in Meard Street and her uncle Stephen Tennant's Gothic pile in Teffont Magna, Wiltshire. She was a close friend of Michael Wishart, the artist, and of her father's second wife, Virginia Parsons (later marchioness of Bath). Through her parents she also got to know well Dylan Thomas, Cyril Connolly, Tambimuttu, Francis Bacon, and Lucian Freud; the latter painted her in 1945. She made her stage début as a chorus girl before starring in Ben Travers's She Follows Me About (1943), with Robertson Hare, and in 1945 appeared on the front cover of Theatre World. She made her screen début in Great Day (1945), with Eric Portman and Sheila Sim. In The Queen of Spades (1949) she played the 'young countess' who sells her soul to the devil. She was married three times: first on 17 August 1946 to the social anthropologist Julian Alfred Lane Fox Pitt-Rivers (1919–2001); second on 3 June 1954 to Euan Douglas Graham (1924–2007), grandson of the fifth duke of Montrose, and principal clerk of bills of the House of Lords, with whom she adopted a son, Andrew; and third on 14 December 1974 to Sir (Horace) Anthony Claude Rumbold, tenth baronet (1911–1983), a retired diplomat. They lived in Tisbury, Wiltshire, before moving to Dorchester, Dorset, where she was at the centre of an extensive social life. In 1989 she published a translation of the Dorset poet William Barnes's dialect verse, and in 1992 a book of her own poems, Loaves and Fishes. Towards the end of her life she moved back to Wiltshire, to a townhouse at Wilton, near Salisbury. She died on 6 December 2008 and was survived by her adopted son.
Ned Sherrin, rev. DNB
Artist biography
Actress. Born Muriel Swinstead, she trained at the Royal College of Music and made her debut on stage at sixteen in Karel Capek's The Insect Play in 1923. In 1928 she appeared as Nature in Diaghilev 's Ballet Ode and then went to New York, where she appeared on Broadway and in revue and cabaret. She returned to London in 1931 and was in work throughout the 1930s and 40s, when she was a member of Lilian Baylis's Old Vic Company. She was married to the 8th Earl Poulett from 1935 to 1941.